Kitchen Renovation Contractor — White Rock, BC
Toledo Renovations — Making Your Kitchen Renovation Dreams a Reality
It's important to work with a kitchen renovation contractor in White Rock you can trust. After all, your kitchen is one of the most important and most used rooms in your home. If you're starting to dream about what your current space might look like — maybe some new appliances, maybe a central island, maybe a different layout for the cabinets — then it may be time to begin planning a renovation. A kitchen remodel can be a bit daunting, and you may be feeling overwhelmed about where to start, but your kitchen reno contractor will be there every step of the way. Toledo Renovations has years of experience and knowledge. So let our team start working with you to bring your kitchen dreams into reality.
First Item to Consider — The Kitchen Renovation Budget
A kitchen remodel budget is the first place to start. Armed with your budget up front, your kitchen reno contractor will be able to put together a more accurate estimate, and work with you toward shared goals. Whether the budget is large or small, you need to be aware of what your overall costs might look like. Talk to us about your budget, what your concerns are, and ask for our advice on ways to best use the funds you have. We'll then work with you to find the balance between your budget and the kitchen of your dreams. You can count on us to help you save time and money in the long run.
What Should You Consider When Planning Your Kitchen Renovation?
A new kitchen is a big expense. It will make a world of difference to how you work, and feel while your working, in your kitchen. But there's no getting around that it's a major expense. Which makes it important to consider your budget well before you start. Are you looking to spend the minimum to accomplish your goals? Are you hoping to get a return on your investment one day in the future when you sell your home? Or are you looking to add some luxury and style (in addition to function) to your home?
Spend time looking at kitchen designs in magazines, websites, Pinterest—anywhere you can get ideas about what you like and don't like. Talk to a realtor about the potential impact on the resale value of your home. 
The layout of your kitchen—will it stay as it is, or are you wanting to expand or open up the space. The more that the layout changes, the more that water, electricity or gas connections are impacted the more substantial the renovation will be.
Depending on how long you've had your current appliances, you may want to consider replacing and upgrading them.  There are tons of new, convenient features that you may want to take advantage of, For example, some refrigerator models have a touch screen for ordering groceries, playing music or watching TV!
How to Set Your Kitchen Renovation Priorities
When planning your budget, it helps to prioritize the elements of your new kitchen according to what's most important. Everything can't be the same top priority. Write down everything you want. Don't hold back. What do you envision in your dream kitchen?
Now go through  your list and divide them into three groups – A. Top Priority, B.  Middle Priority and C. Low Priority. And divide each group in to 3 sub groups of top, middle and low priorities. 
Next, for each item determine if it's a high cost or relatively low cost and what those costs might be.
High cost items affect  your budget, of course. But the lower cost elements can add up too.
Are there any low priority items that are so low, they can be removed to lower your budget?
Are there high cost items that a less expensive option that achieves the same or similar result would be ok? Particularly for your middle and low priority elements?
Prioritizing your kitch reno wish list can help you identify where you're most willing to spend more and where a cost-saving alternative could be a better fit.
How to Keep Track of Your Renovation Spending
There's nothing like a good old-fashioned spreadsheet to keep track of expenses! Whether in Excel or Google Docs, a spreadsheet helps you plan and then helps you track.
Identify all the elements in the first column. Add columns for Budget (to list what is budgeted for each element), and for Actual (to list the real costs as they come in).
Sharing the spreadsheet with your contractor in the cloud (Dropbox, Google Docs, etc.) helps everyone stay aware and make potential adjustments along the way.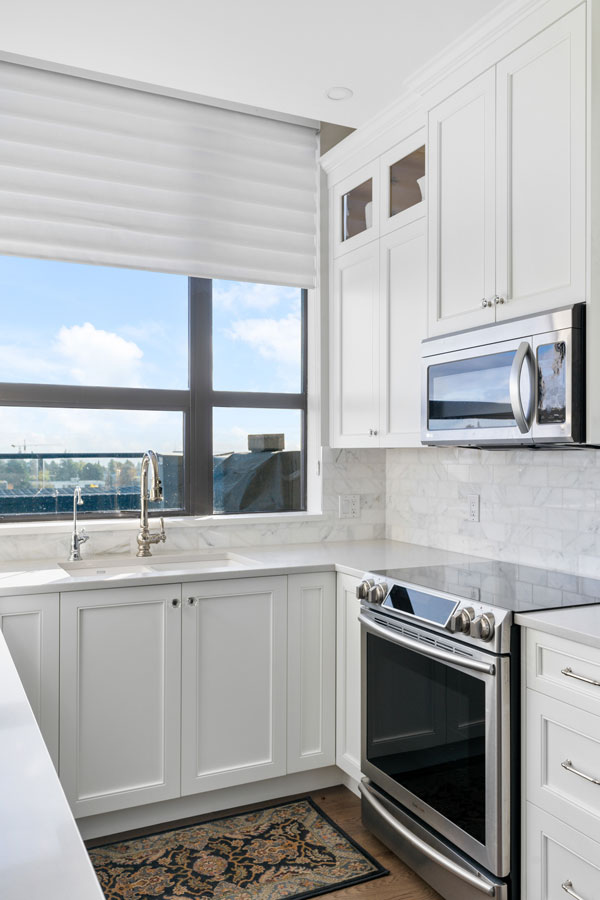 Be aware of your kitchen's "work triangle" — an imaginary line from your stove or cooktop to the sink, the refrigerator and back to the stove. How these are configured and what else is within easy reach helps determine how efficient it is to work in your kitchen. Fewer steps mean more efficency.
Include a backsplash in your reno. Even on a small budget, a simple subway tile backsplash will add a textural element to the whole room, that ties the kitchen design together. If you have more money in your budget then you can have fun playing with the size, shape and material of the tile to add a bit more visual interest.
Look for inspiration without leaving home. True you can find inspiration in real estate open houses, walking through Ikea or visiting Home Depot, Rona or Lowes. But you can find tons of inspiration online — especially on Instagram and Pinterest. On Instagram search for hashtags such as #kitchenrenovation, #kitcheninspiration, or the theme you're going for such as #farmhousekitchen.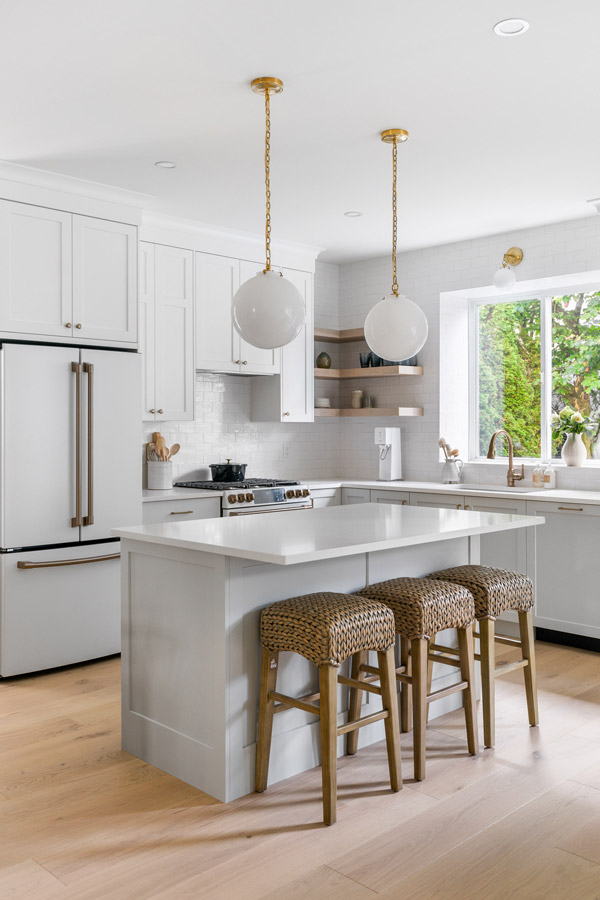 What to Expect from your White Rock Kitchen Renovation Contractor

As your kitchen renovation contractor, we will be in constant communication with you, providing updates on each step of the project. Feel free to bring us any questions you may have. Every question is a good question!
A kitchen renovation is not something to undertake lightly, regardless of how big or small of a reno you are planning. Toledo Renovations has years of experience that will benefit you. From being able to acquire materials at discounted prices to having connections with quality sub-trades — our knowledge will help your renovation go smoothly from start to finish. We know the legal and safety precautions that are required in a kitchen remodel, and will obtain any needed White Rock building permits throughout the project.
If there are ever any complications or unforeseen issues that arise, we will bring them to your attention, along with our proposed solutions. We will make sure each step of the project goes smoothly, leaving you with a kitchen you can enjoy and be proud of for years to come.
Important First Steps to Getting Your Kitchen Remodel Started
When it comes to your White Rock kitchen renovation project, we want to make the process as smooth as possible from start to finish. Here are some important steps to keep in mind in your initial planning stage.
The first thing to consider would be, what type of lifestyle do you live? How much time will you spend in the kitchen? What will the kitchen be used for — strictly cooking and eating, or will it be more of a central gathering place? What kind of cook are you? How often do you entertain? Do you need a homework or computer nook in the kitchen? As you start to think about the different roles your kitchen plays in your life, you will be able to really see what is most important in the kitchen of your dreams. 
Choosing quality appliances goes a long way. Choosing less expensive appliances may seem like a good idea at the time, in the long run you may end up paying more if you need to replace them within a couple of years. Get the best appliances you can afford. Your kitchen renovation budget should include all appliances that are being replaced. They will be appreciated every time you use them.
Your kitchen layout is key to a well organized renovation. Putting pen to paper to draw out what you want, will give a first impression on how the workspace will flow. Don't be afraid to draw out what you really want, even if it pushes the boundaries of your current kitchen. Extending your previous kitchen boundary is a great way to completely reimagine your kitchen space. Talking it through with your kitchen renovation contractor in White Rock, will determine what may or may not be feasible.
Let's Get Started on Turning Your Kitchen Renovation Dream into a Reality!
If you're ready to renovate, contact us.  We'd love to hear your ideas for your new kitchen renovation. We'll come do a walk through to see the space, see what's not working for you now, and hear your vision. We'll then get you an estimate and talk you through the timeline and process to get the correct White Rock permits and get started!