Kitchen Renovation Contractor — Surrey, BC
Toledo Renovations — Kitchen Reno Experts — Turning Your Dreams into Reality
Often considered the most important room in the house, the kitchen is where you spend many hours. From cooking for your family, to entertaining guests, the kitchen is a space for all. If you're dreaming of a kitchen that is more modern or better suited to your lifestyle than your current space, it may be time to consider renovating. A kitchen renovation can seem like a huge project, and you may be unsure of where to start. When it's time to make some changes to this important room in your home, you will want a kitchen renovation contractor in Surrey you can trust. Although it is a large project, it doesn't need to be overwhelming. With the experience and expertise we've gathered over the years, we can make your dream kitchen a smooth process for you.
Start With a Kitchen Renovation Budget
Do you really need a kitchen renovation budget? Whether your budget is large or small, it is important to know in advance, what your overall costs might look like. As your kitchen reno contractor, it will help us offer you a more accurate estimate. We can then work with you to find the balance between sticking to your budget and providing you with the kitchen of your dreams. Ultimately, it will save time and money when we have a budget to work from.
How Much Will it Cost to Remodel a Kitchen?
The average kitchen renovation in Canada costs around $25,000.  A high-end renovation can be around $50,000 depending on the appliances and cabinets.
Source: MoneySense.ca
Where Should You Start when Setting Your Kitchen Reno Budget?
When planning your kitchen renovation budget, consider how much you're willing to spend on each element.
Some elements you may be willing to invest more in, such as:
a hands-free faucet,
stone countertops,
custom cabinets or extra cabinet features,
higher-end appliances,
under-cabinet lighting, or
wood flooring.
And some elements you may want to spend less on, such as:
laminate or butchers block countertops, 
vinyl or ceramic flooring, or
pre-made cabinets, or refinishing existing cabinets or replacing only the doors.
Should You Include Contingency Funds in Your Budget?
It's best to be prepared for unexpected surprises. That way, if they occur, you're able to make the best decision for your home without being compromised. A good rule of thumb is to add an extra 20-25% to your budget as contingency.
Also consider that while your kitchen is being renovated, you won't be able to cook as much. Your food costs may increase as you buy more prepared foods or restaurant and take-out meals—meaning you may want to include a line item in your budget for meals.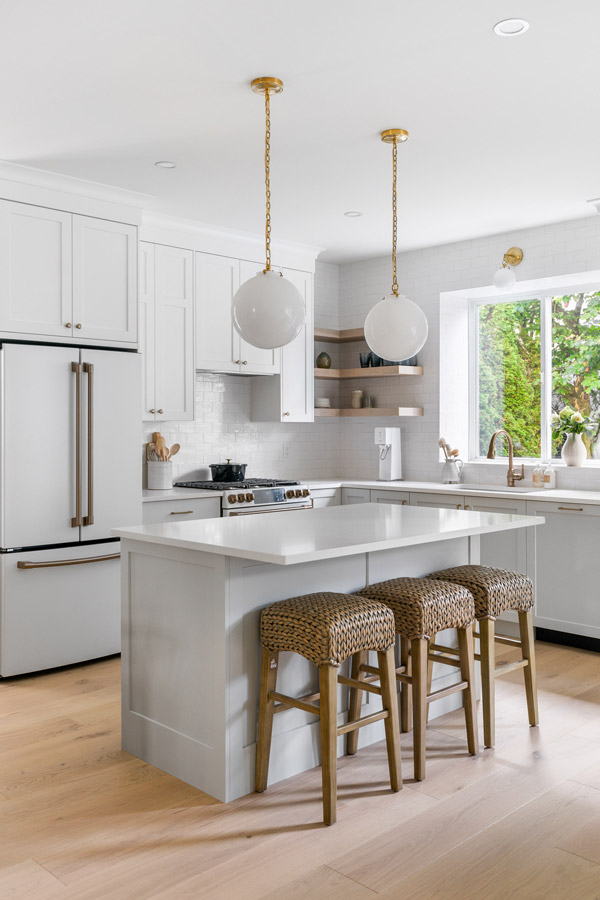 Get Inspired for Your Kitchen Remodel
When you start gathering ideas for your dream kitchen, there's endless inspiration around you. Check out the many realty photos online to see what the current trends might be. Walk through a local Surrey Open House, to spark your imagination. Check Ikea's showroom for current kitchen options. Social media sites like Pinterest and Instagram are also great places to start, finding inspiration at your fingertips. By gathering some ideas in advance, we will work with you to make your ideas come to life.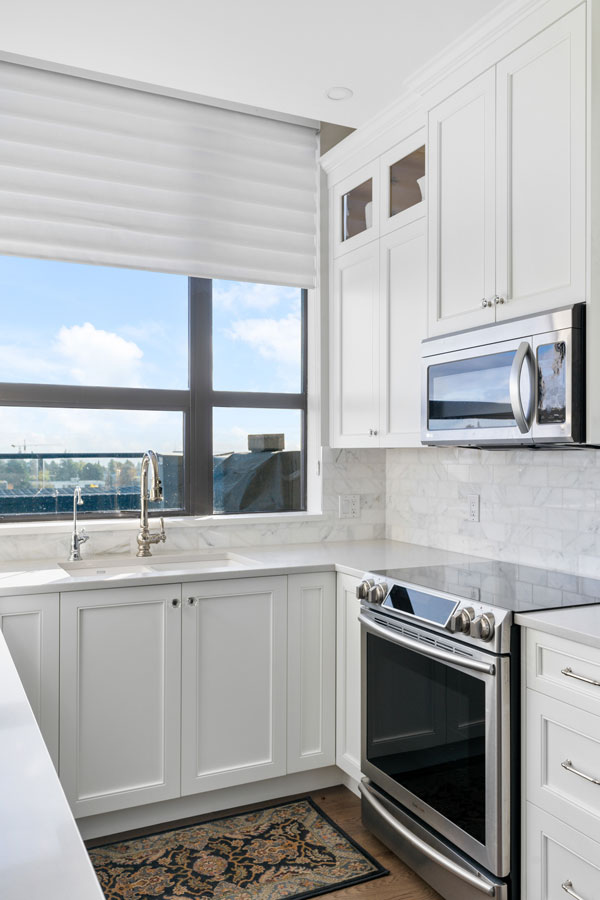 What to Expect from Your Surrey Kitchen Reno Contractor
As your contractor, Toledo Renovations will be in constant communication with you, updating you on each step of the project. Feel free to bring any questions you may have to your kitchen reno contractor.
While there may be some benefits of going the "do-it-yourself" route, working with a contractor will make the whole process much easier and be so much less stressful for you. With our experience, we know the legal and safety precautions that are required, and will obtain any needed Surrey building permits throughout the project. Our long list of skilled and trustworthy sub-trades that we work with, will combine to bring your renovation to completion.
If there are ever any complications or unforeseen issues that arise, we will bring them to your attention, along with our proposed solutions.  Our goal is to work alongside you as we create your dream kitchen.
3 Steps to Getting Your Kitchen Renovation Started
When it comes to your Surrey kitchen renovation project, we want to make the process as smooth as possible from start to finish. Here are some important steps to keep in mind in your initial planning stage.
From the start, having a layout design is key. Putting your ideas to paper will help visualize how the space will flow. If one of your concerns is to make more space, you will need to change up your existing space. Don't be afraid to draw out what you really want, even if it pushes the boundaries of your current kitchen. Extending your previous kitchen boundary is a great way to completely reimagine your kitchen space. Talking it through with your reno contractor, will determine what may or may not be feasible.
Don't skimp on the kitchen appliances . While choosing the less expensive options may seem like a good idea at the time, in the long run you may end up paying more if you need to replace them within a couple of years. Get the best appliances you can afford. Your kitchen remodel budget should include all appliances that are being replaced. They will be appreciated every time you use them.
Knowing what type of lifestyle you live, is another key item to be considered in advance Think about what the kitchen will be used for. What kind of cook are you? How often do you entertain? Is it the central gathering place for your family and friends? As you start to think about the different roles your kitchen plays in your life, you will be able to prioritize what is most important in the kitchen of your dreams. Your kitchen reno contractor in Surrey will help you every step of the way, to ensure all goes as smoothly as possible.
Let's Get Started on Turning Your Kitchen Renovation Dream into a Reality!
If you're ready to renovate, contact us.  We'd love to hear your ideas for your new kitchen renovation. We'll come do a walk through to see the space, see what's not working for you now, and hear your vision. We'll then get you an estimate and talk you through the timeline and process to get the correct Surrey permits and get started!