Kitchen Renovation Contractor — Langley, BC
Toledo Renovations — Making Your Kitchen Renovation Dreams a Reality
With your kitchen being one of the most important and most used rooms in your home, you will want a kitchen renovation contractor in Langley that you can trust. If you're dreaming of what your current space would look like, if it were only more modern or just better suited to your lifestyle, then maybe it's time for renovating. Although a kitchen remodel can be a big project, and you may feel overwhelmed of where to start, your kitchen reno contractor will be there every step of the way. With our years of experience and knowledge, let our team work with you to bring your kitchen dreams into reality.
"Good food and a warm kitchen is what makes a house a home."
Rachael Ray
First Step — The Kitchen Renovation Budget
How important is a kitchen remodel budget? Armed with a budget in advance, we will be better able to offer a more accurate estimate, and work together with you, toward the same goal. Whether the budget is large or small, you need to be aware of what your overall costs might look like. Talk to your contractor about your budget and ask their advice for ways to best use the funds you have. We can then work with you, to find the balance between sticking to your budget and providing you with the kitchen of your dreams. In the long run, it will save time and money when we have a budget to work from.
How Much Does a Kitchen Renovation Cost?
It depends. There are so many variables in remodeling a kitchen that the total costs can vary from one reno to the next.
A small renovation that includes all of the following elements may cost up to $30,000 depending on the materials used. Remove one element and you could expect the average reno cost to be less.
Refaced kitchen cabinets
New appliances
New countertops, sink and faucet replaced
New flooring
Painted walls, tiled backsplash
A larger renovation that includes all of these elements could be $50,000+ depending on materials and degree of customization.
Semi-custom or custom cabinetry
New marble or quartz countertops 
Upgraded appliances
Custom lighting
New tiled floor
Painted walls, tiled backsplash
With so many options, to keep your budget manageable keep in mind what you most want to accomplish. If it's a fresh look, then refacing the cabinets may suffice. If it's to add storage and functionality, then custom cabinets may be what will accomplish that for you. This is the type of decision you can make before the renovation even begins to manage your costs. We can show you where it will make the most sense to save money and where spending a bit more will make a world of difference.
What is the "One-Third Rule of Budgeting for a Kitchen Reno?"
The "One-Third Rule" of renovating divides your expenses into three categories with one-third of your budget going to each category.
Cabinetry
Finishing touches (countertops, sink & faucets, appliances, flooring, walls)
Installation and labour
Is Remodeling the Kitchen a Good Investment?
According to Scott McGillivray, host of HGTV Canada's Income Property, "…when a kitchen renovation is done right and is part of a well-maintained, upgraded home, the ROI can be as much as 200%." Well, that's a goal!
An updated kitchen has the potential to be the main selling feature when it's time to sell your home. When a prospective buyer is standing in a kitchen that will not require any work on their part, it practically sells your home for you. The caveat is that they have to love the design and features of your kitchen as much as you do. Choosing neutral tones and added-value features that deliver convenience and function will help your kitchen appeal to more people.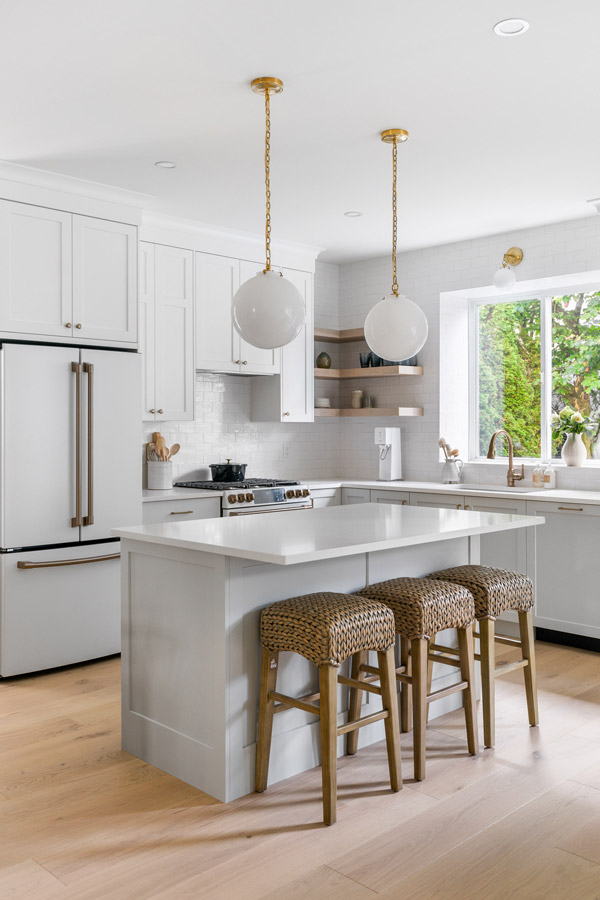 Be aware of your kitchen's "work triangle" — an imaginary line from your stove or cooktop to the sink, the refrigerator and back to the stove. How these are configured and what else is within easy reach helps determine how efficient it is to work in your kitchen. Fewer steps mean more efficency.
Include a backsplash in your reno. Even on a small budget, a simple subway tile backsplash will add a textural element to the whole room, that ties the kitchen design together. If you have more money in your budget then you can have fun playing with the size, shape and material of the tile to add a bit more visual interest.
Look for inspiration without leaving home. True you can find inspiration in real estate open houses, walking through Ikea or visiting Home Depot, Rona or Lowes. But you can find tons of inspiration online — especially on Instagram and Pinterest. On Instagram search for hashtags such as #kitchenrenovation, #kitcheninspiration, or the theme you're going for such as #farmhousekitchen.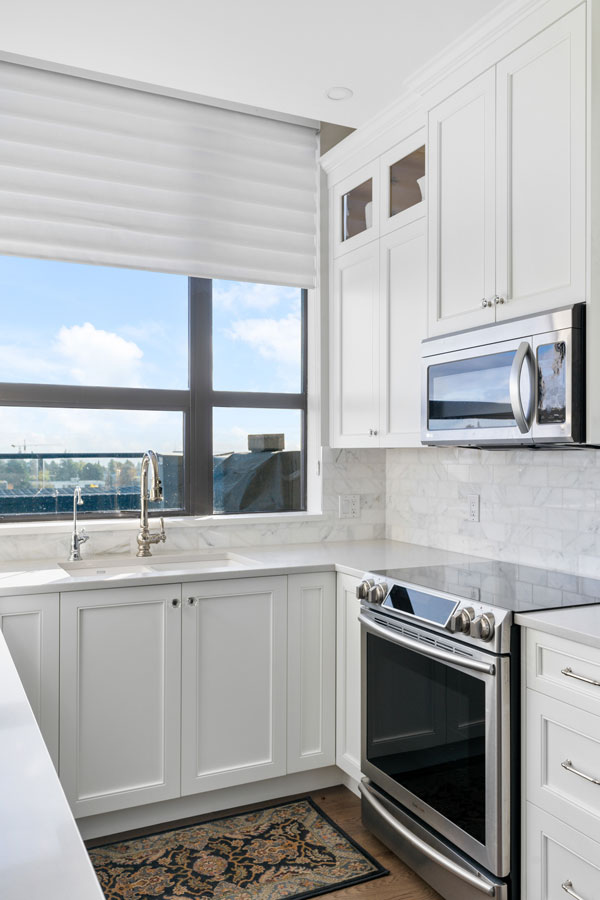 What to Expect from your Langley Kitchen Reno Contractor

As your contractor, we will be in constant communication with you, updating you on each step of the project. Feel free to bring any questions you may have to us. There are never any dumb questions!
Regardless of how big or small of a kitchen renovation you're planning, it is not something to undertake lightly. Toledo Renovations has years of experience that will benefit you. From being able to acquire materials at discounted prices to having connections with quality sub-trades — our knowledge will help your renovation go smoothly from start to finish. With our experience, we know the legal and safety precautions that are required, and will obtain any needed Langley building permits throughout the project.
If there are ever any complications or unforeseen issues that arise, we will bring them to your attention, along with our proposed solutions. We will make sure each step of the project goes smoothly, leaving you with a kitchen you can enjoy and be proud of for years to come.
How to Give Your Kitchen a Feeling of Spaciousness
For your Langley kitchen renovation project, we want to make the process as smooth as possible from start to finish.  That means, before any work begins, that both you and our team fully understand your end goal. For example, perhaps besides making your kitchen more contemporary, you also want it to have more space, or feel more spacious.  Here are some ways that can be accomplished.
Cabinetry — The layout of the cupboards and drawers will help you get more function out of the space you have. Maximize storage space with large corner cabinets, and cabinets that extend up to the ceiling. All those items that you use less often (like Christmas-themed cookie tins), can be stored on the higher shelves. (Be sure to include a sturdy stepstool in your reno purchases, to easily and safely reach the top shelves.) And moving small appliances off the counters and into cupboards gives opens up the space.
Lighting — Layering your lighting, using different lights to highlight different areas helps add depth and the illusion of space. Want more light on the stove while you're working, add a pot light or two focused there. Under-cabinet lighting not only brightens up counter workspace, it also adds a dramatic effect when they're the only lights on. 
Move or Remove Walls — Particularly in older homes, sometimes it comes down to literally adding more space to the kitchen. This might be moving a wall a few feet out or removing a wall entirely. This is quite popular when the goal is to create an open, common space similar to those found in new home developments where the kitchen, dining room and living room have no walls between them. This can be done as long as the walls in question are not weight-bearing walls.
Let's Get Started on Turning Your Kitchen Renovation Dream into a Reality!
If you're ready to renovate, contact us.  We'd love to hear your ideas for your new kitchen renovation. We'll come do a walk through to see your kitchen in Langley, see what's not working for you now, and hear your vision. We'll then get you an estimate and talk you through the timeline and process to get the correct permits and get started!