Kitchen Renovation Contractor — Cloverdale, BC
Toledo Renovations — Turning Your Kitchen Renovation Dreams Into Reality
Your kitchen is a gathering place in your home where you spend many hours. From cooking for your family, to entertaining large groups of friends, your kitchen is a space that should be enjoyed by all. Are you spending your days wishing your kitchen was more modern or better suited to your needs and lifestyle? If so, then it may be time to consider renovating. A kitchen renovation can seem overwhelming, and you may be unsure where to start. When you decide to make some changes to this important room in your home, you will want a kitchen renovation contractor in Cloverdale you can trust. Although it is a big project, it doesn't need to be stressful.  From our years of experience, we have gathered key points in hopes to make the process smoother for you.
Working Within a Kitchen Renovation Budget
Is a budget important? Knowing your budget in advance, will help you know what you have to work with and help us offer you a more accurate estimate. Once you let us know your expected budget, we can work with you to find the balance between sticking to your budget and providing you with the kitchen of your dreams. Whether your budget is large or small, we will show you ways to save money.
What is the Most Expensive Part of a Kitchen Remodel?
Although it varies depending on the homeowner's vision for their kitchen, the cabinets are usually the most expensive part of a kitchen remodel. Having cabinets built to fit your space and needs tends to start around $15,000 and can be much more depending on the number of cabinets, the materials (melamine, plywood, hardwood, etc.) and features such as soft-close doors and drawers, pull-out cabinets, lazy susans, and tip out trays.
How Much Should be Budgeted for Labour for a Kitchen Reno?
A good estimate is to allocate one-third of your budget for labour. Depending on the extent of your renovation your labour cost may include any or all of the following:
Architect: A major renovation, one that completely changes the footprint of the room, or involves moving or removing walls may require an architect. The average small or medium-sized reno project does not require the services of an architect though.
Designer: Large renos can also benefit from a designer, someone to collaborate with and learn from, to bring ideas to the table you haven't even thought of.
General Contractor: It's possible to not hire a designer and lean on the contractor's extensive experience. They'll oversee the project and coordinate the other skilled trades people.
Plumber: If new plumbing is required, for example installing a faucet over the stove, or moving the location of the sink or dishwasher, or adding piping to the refrigerator for the built-in icemaker, then a plumber will be brought in by the contractor.
Electrician: Adding or removing lighting or electrical outlets will require an electrician who will also be brought in by the contractor.
Carpenter: Cabinets may be buit by a carpenter, or more likely by a cabinet company.
What are Some Less Expensive Ways to Update a Kitchen?
If you've grown tired of your kitchen, or it's stuck in a time warp from decades ago, there are some low cost ways to "renovate" your kitchen.
Wood cabinets can be sanded and restained or painted. Add some contemporary hardware—hinges, door handles and knobs—and you've got a fresh, new look. 
Add new granite countertops to existing cabinets and save money by spending time shopping around for discount vendors, or big sales. Or consider going with a butcher's block countertop or high-quality laminate that looks like granite or marble.
Put roll-out shelving in your existing cabinets to add ease and functionality. Not only can they make use of more space, but you'll love the convenience every time you easily pull them out from low cabinets and don't have to bend and stretch to reach what's in the back.
Add more light. If your kitchen is on the dark side, then simply adding more light will make it feel brand new. New light fixtures is a simple update. With a bit more budget, have an electrician install under cabinet lighting.
New paint and new window treatments will make a world of difference on a shoestring budget. 
Replace your old faucet and taps with a new faucet that's higher to add an element of modern, streamlined design. It's also makes tasks easier, particularly as the height makes filling pots and washing large items easier.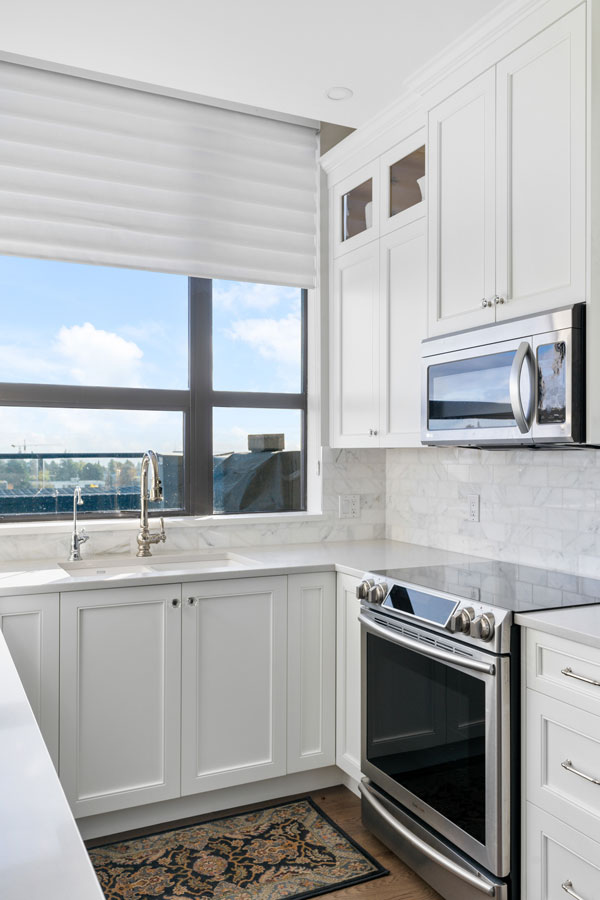 Planning Your Layout with Your Contractor
When it comes to layout, we will help you make decisions that will provide you with a beautiful and functional kitchen for years to come. It is important that the layout and appliances flow together with enough space between them to avoid the feeling of being cramped. If a bigger kitchen is on your list of "must haves", with more counter space and storage, consider the possibility of extending the current layout of your kitchen. Talk with your kitchen reno contractor to see if this is a feasible option that will flow with the rest of your house.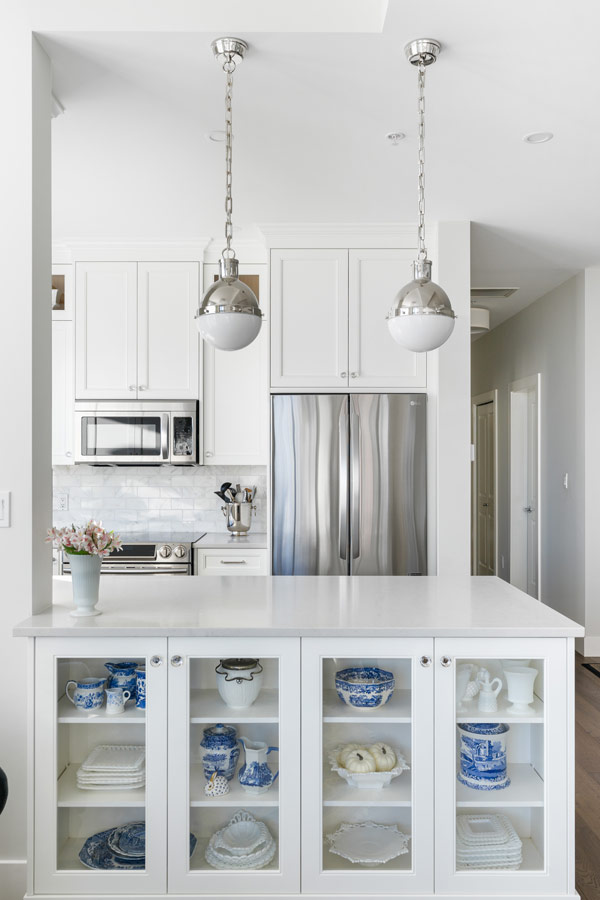 What to Expect from your Cloverdale Kitchen Renovation Contractor

As your kitchen reno contractor, we will be in constant communication with you, updating you on each step of the project. Please feel free to bring us any questions you may have as there are never dumb questions!
While going the "do-it-yourself" route may seem like a way to cut costs of your kitchen remodel project, working with a contractor will make the whole process much easier and take a huge weight off your shoulders. We have an understanding of all the legal and safety precautions and will obtain any needed Cloverdale building permits throughout the project. We have a long list of skilled and trustworthy sub-trades that we work with to bring your renovation to completion. 
If there are ever any complications or unforeseen aspects that come to the surface, we will bring them to your attention along with our proposed solutions.  Our goal is to work alongside you as we turn your current kitchen into your dream kitchen.
3 Steps to Getting Your Kitchen Remodel Started
When it comes to your Cloverdale kitchen renovation, we want to ensure the project runs as smooth as possible from start to finish. Here are some important steps to keep in mind in your initial planning stage.
From the start, having a layout is key. Try mapping out what you want and how the workspace will flow. If one of your concerns is to make more space, you will need to change up your existing space. Don't be afraid to draw out what you really want, even if it pushes the boundaries of your current kitchen. Extending your previous kitchen boundary is a great way to completely reimagine your kitchen space. Talking it through with your contractor, will determine what may or may not be feasible.
Choose your kitchen appliances wisely. It may seem like a good idea to choose the less expensive options, but in the long run you may be paying more if you need to replace them within a couple of years. Get the best appliances you can afford. Appliances should be considered as part of the whole kitchen renovation budget. You will enjoy them every time you use them.
Another key item to think about ahead of time, is what type of lifestyle do you live? Think about what the kitchen will be used for. What kind of cook are you? How often do you entertain? Is it the central gathering place for your family and friends? As you start to think about the different roles your kitchen plays in your life, you will be able to prioritize what is most important in the kitchen of your dreams. Your kitchen renovation contractor in Cloverdale will help you every step of the way, to ensure all goes as smoothly as possible.
Let's Get Started on Turning Your Kitchen Renovation Dream into a Reality!
If you're ready to renovate, contact us.  We'd love to hear your ideas for your new kitchen renovation. We'll come do a walk through to see the space, see what's not working for you now, and hear your vision. We'll then get you an estimate and talk you through the timeline and process to get the correct permits in Cloverdale.  Then we'll get to work!